Sunday's Sermon – Beyond the Palms
30
Mar
Below is a copy of the sermon I preached on Sunday in Cove Presbyterian Church, Weirton, West Virginia. You can find other sermons, devotions, essays, articles, services, and announcements on The Cove Community blog.

Isaiah 50:4-9a

The Lord God has given me the tongue of a teacher, that I may know how to sustain the weary with a word. Morning by morning he wakens–wakens my ear to listen as those who are taught. The Lord God has opened my ear, and I was not rebellious, I did not turn backward. I gave my back to those who struck me, and my cheeks to those who pulled out the beard; I did not hide my face from insult and spitting. The Lord God helps me; therefore I have not been disgraced; therefore I have set my face like flint, and I know that I shall not be put to shame; he who vindicates me is near. Who will contend with me? Let us stand up together. Who are my adversaries? Let them confront me. It is the Lord God who helps me; who will declare me guilty?

Beyond the Palms


When I was kid, Palm Sunday was one of the few Sundays during the entire year that I actually enjoyed going to church. You see, I grew up in the 1960s, and I'm not sure anybody would call that a "child-friendly" time. Now that's not to say that there weren't children; man, we were all over the place. It's just that no one really seemed to care if we got anything out of the worship service at all. We were just sort of there, in the background, but not really a part of what was happening. I mean, it was pretty clear, at least to me, that worship was for adults, not for kids. In fact, for children, the service itself seemed like something to endure, not enjoy, but then even the adults didn't seem to enjoy it very much. Good night, back then, few people smiled, because worship was serious business. I'll tell you, looking back, all I was expected to do was to sit there on those unpadded pews for what seemed like forever, in my uncomfortable "Sunday-go-to-meeting" clothes, listening to a lot of stuff I certainly didn't understand and trying to find something to entertain myself that didn't involve movement or noise. And I had to do it, until the guy up front finally stopped talking. And when he finally reached his last point, and the adults sang their last song (I never knew the words so I couldn't sing), after that, I was free, free at last, thank God almighty, I was free at last. And even though it was a little better around Christmas (at least we got to sing a few carols that I knew and that were actually fun to sing), for me that was worship.


But there was one Sunday that was different, and it wasn't Easter. In fact, in some ways Easter was worst, because the clothes were even more uncomfortable than usual and the guy up front seemed to talk longer and as I sat there, I knew I had a bunch of peeps just begging to be eaten. No, the one Sunday that was different was Palm Sunday, because during that service I actually had a role to play, what a radical thought, children being involved in worship. You see, as the adults sang, we got to walk in waving palms. And when we were marching, the adults actually looked happy that we were here, not the usual annoyed look we got when we did anything louder than unwrap a piece of candy.  I'm telling you, as I went down that center aisle at Ocean View Presbyterian Church, I felt like I was important, you know, that I belonged. You see, back in the day, that's something that happened on every Palm Sunday.

Of course things have changed, personally I think for the better. I mean, I hope we're doing some things to help the children feel more comfortable in worship than I felt. But you know, regardless of what we may or may not be doing, Palm Sunday is still special, because it focuses on the Jesus's entry into Jerusalem, something that Mark described like this, and I'm reading this from the Contemporary English Version: "The disciples left and found the donkey tied near a door that faced the street...[and] led the donkey to Jesus. They put some of their clothes on its back, and Jesus got on. Many people spread clothes on the road, while others went to cut branches from the fields. In front of Jesus and behind him, people went along shouting, 'Hooray! God bless the one who comes in the name of the Lord! God bless the coming kingdom of our ancestor David. Hooray for God in heaven above!'" Now that's what Mark wrote, and even though there's no mention of palms (that's something that's only in the Gospel of John), this is the story of Palm Sunday, a day that should be full of excitement and joy and hope. And that's a good thing.


But before we just smile and move on, I think we might want to pause and take just a few minutes to look beyond the palms. In other words, rather than just to jump from the excitement of Palm Sunday to the joy of Easter, I think it's important to spend a little time thinking about what happened in between, and in particular, at four things that Isaiah seemed to envision  when he wrote the passage we read a little while ago and that we might want to consider before we leave this day. Let me tell you what I'm talking about. You see, first, when we look beyond the palms and consider what he did during his next five days, I think we find Jesus teaching some pretty uncomfortable lessons. I mean, give me a break, he hit three topics that I know that I really don't want to preach and frankly, I don't think y'all want to hear. For example, one, he talked about money, and in particular, how people have a tendency to spend a lot more time thinking about what they have than what they're able to give. And then, two, he talked about the importance of bearing fruit and how we, if we choose to focus our attention on ourselves rather than on our neighbor, how we run the risk of becoming just like that fig tree which withered and died because it bore not much of anything. And then, three, he taught about how people better get themselves straight and start doing the stuff they knew they were suppose to do, because the day of judgement was going to come "like a thief in the night." Now, like it or not, that's the kind of stuff Jesus taught during his last week. And I'll tell you, these are lessons that I think we also need to hear, because we can become so gummed up with issues that are theological and political that we completely forget that Jesus gives us two commands that he expects us to do, something else he taught during this time: "The first is, 'Hear, O Israel: the Lord our God, the Lord is one; you shall love the Lord your God with all your heart, and with all your soul, and with all your mind, and with all your strength.' The second is this, You shall love your neighbor as yourself.' There is no other commandment greater than these." Frankly, this is our job, and it may involve spending money, and it should certainly result in fruit, and we've only been given a limited time to do it. You see, this kind of stuff we can find in these uncomfortable lessons. And I think that's the first thing we're going to see when we look beyond the palms.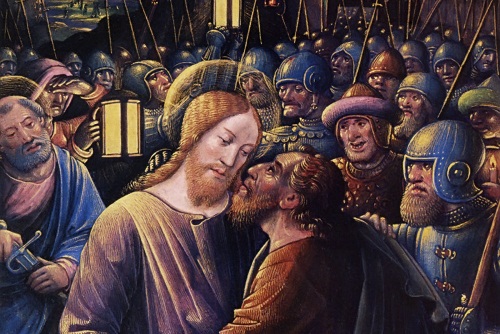 And second, I don't think we can avoid the fact that the disciples, and I'm talking about the ones closest to Jesus, man, these guys provided to be a big, fat disappointment. Of course, that's really not all that surprising. I mean, earlier in the story, while Jesus was talking about how we was going to "...be betrayed into human hands, and they will kill him, and three days after being killed, he will rise again," the apostles were doing important, spiritual stuff, right: you know, like arguing about who was greatest and trying to shut up a man who was casting out demons in the name of Jesus and pushing away the children. Now, that's what I'm talking about. And so they haven't been anything to write home about, especially after Peter's confession at Caesarea Philippi, but in this last week, they reached new lows. It's like a minister told me years ago when I was discouraged about attendance. He said, "At the end, Jesus had twelve followers left: one betrayed him, one denied him, and the rest ran away. Why would you think that you could do better than Jesus?" Let's just say, those disciples proved to have feet of clay, something we might notice with all of us if we took off our shoes and socks. You see, I think we need to remember that even though we've been redeemed by Christ and filled with the Holy Spirit, and chosen to follow him, there are times when we fall short, and when we're less than loving toward God and neighbor; therefore, humility should probably always be our attitude de jour. And that's the second thing I think we'll understand when we look beyond the palms.


And third, I think it's also hard to miss that during that same time, the enemies of Christ sure seem to get the upper hand, something that Isaiah knew would happen when he wrote, "I gave my back to those who struck me, and my cheeks to those who pulled out the beard; I did not hide my face from insult and spitting." I mean, just think about what happened during Jesus's last few hours. He appeared before the Sanhedrin, sort of a council of Jewish leaders, where he was accused and convicted of blasphemy. And then he was taken before Pontus Pilate, the Roman governor, who would ultimately signed his death warrant. And then he was made to stand before the crowds only to hear those people whom he'd healed and fed and taught, shout "Crucify him!" And during that whole time, Jesus was mocked and flogged and then nailed on a cross. As Mark wrote, "Then the soldiers led him into the courtyard of the palace (that is, the governor's headquarters); and they called together the whole cohort. And they clothed him in a purple cloak; and after twisting some thorns into a crown, they put it on him. And they began saluting him, 'Hail, King of the Jews!' They struck his head with a reed, spat upon him, and knelt down in homage to him. After mocking him, they stripped him of the purple cloak and put his own clothes on him. Then they led him out to crucify him." Now that's what happened to Jesus. And yet we know that story didn't end here. And I'll tell you something, as we consider our own lives, that's something I think we also need to remember. You see, our story also won't end with ISIS or plane crashes or global warming, and it won't end with or sickness or pain or even death. I mean, even when evil seems to have the upper hand, it's only temporary. Man, I've seen the movie; spoiler alert, God wins, and that's the third thing we can see.


And finally, when we look beyond the palms, we can appreciate the absolute separation Jesus endured on the cross. I mean, think about it; he was certainly separated from this disciples; to a man, they'd all abandoned him. And the ones who were around us as he suffered and died on the cross, this is what Mark wrote: "Those who passed by derided him, shaking their heads and saying, 'Aha! You who would destroy the temple and build it in three days, save yourself, and come down from the cross!' In the same way the chief priests, along with the scribes, were also mocking him among themselves and saying, 'He saved others; he cannot save himself. Let the Messiah, the King of Israel, come down from the cross now, so that we may see and believe.' Those who were crucified with him also taunted him." And I'll tell you, when it came to people, Jesus was alone. But that wasn't the worst of it, when Jesus cried out, "Eloi, Eloi, lema sabachthani?" which means, "My God, my God, why have you forsaken me?", I think he even felt separated from God. In other words, on that cross, Jesus experienced the very depth of human emptiness and despair which I believe comes not from pain, but from complete and total isolation. And you know, that's important for us to know, because it means that when we lift up to him all that stuff that troubles us, and I'm talking about our fears and doubt and loneliness, we're talking to someone who really understands, because he experienced those feelings himself. And I think that's the fourth thing that's there beyond the palms.

Now I believe Palm Sunday is suppose to exciting, and even though I hope we're more sensitive to our children than my church was in the sixties, I hope the kids still like the palms. This is a good day. But before we jump on to Easter, let's spend some time thinking about the week that followed. I mean, let's take seriously those uncomfortable lessons and feel some real humility when we consider the failure of the disciples. And let's remember that whatever advantage evil has, it's only temporary and that when he died on the cross, Jesus totally identified with us on our worse day. Let's think about this stuff before we move on to Easter; because these are some of the things we might learn, when we take the time to look beyond the palms.